Digital Modular Radio 200-WATT
P/N 26000-2 AM-7584B
26000-3 (100 watt MUOS) AM-7584E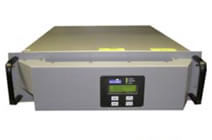 Milpower has delivered over 540, 200 Watt versions of the Digital Modular Radio Power Amplifier, and in addition, can deliver this same amplifier with complete, tested compatibility with the MUOS waveform per the MUOS-Specification terminal Services (MTS) Specification Rev. F, at 100 Watts average and 500W peak (26000-3).
The Digital Modular Radio features the required fast-switching filtering (<20usec), transmit/receive switching, and full 200 watt RF performance into a 2.0:1 VSWR load under all temperature and load conditions at 100% duty cycle, over the full 30-400 MHz band.
The 19" rack-mounted power amplifier is completely self-contained, with internal fans, transmit/receive switch for full-duplex operation, and internal single phase, 115 VAC, 45-420 Hz power supply with active power factor correction. Automatic level control is provided for inputs ranging from -20 to +15 dBm, and provides unconditional stability and protection for all load conditions. It can be operated in AM, FM, PM, pulsed or continuous wave, single- and multi-tone modes, DAMA and MUOS.

Please call (619) 892-4545 for more information on our Digital Modular Radio 200 Watt Power Amplifier.