SATCOM Transportable
20-40 W Amplifier System
P/N 25000-1,2,3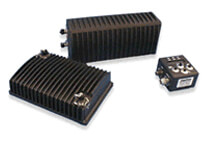 This SATCOM transportable system provides 20-40 watts of RF output power into a 2:1 VSWR load at 50% duty cycle. It also amplifies RF signals from a satellite antenna in the receive direction (LOS antenna signals are passed through un-amplified). It is completely self-contained, with internal transmit/receive switch, DC/DC power supply, and automatic/manual LOS Bypass mode. The PA/pre-amplifier is remotable up to 300 feet, via a single coaxial connection (Bias-T configuration). The system accommodates all PSK/FSK modulation techniques and TDMA/DAMA formats as provided by any DAMA terminal meeting the input frequency and power range requirements, in accordance with JITC standards. Tx/Rx function of this HPA is activated by the presence or absence of RF from the radio.
The remote control unit for this SATCOM transportable allows operator control of output power levels; receive power levels, SATCOM/LOS control; and displays RCU and amplifier status and operating time. It can be powered by either a +28 VDC MIL-STD-1275A or 110/220 VAC universal power source.
Customers:




---
Technical Specifications
Power Output
2:1 VSWR, all phase angles: up to 40W (+46 dBm),+/- 1 dB, adjustable in 1 dB increments from 20-40W, SATCOM Band
Receive Frequency Range:
243 to 270 MHz (SATCOM Band)
Transmit Frequency Range:
291 to 318 MHz (SATCOM Band) ,
Transmit Noise Floor:
@ +32 dBm input/+50 dBm output: -150 dBm/Hz@ PA output, SATCOM Receive Band, -135 dBm/Hz elsewhere
Receive Noise Figure:
<3 dB, SATCOM Band
Receive Input IP3:
In Band: >+10 dBm, for < 15 dB receive gain
Receive Isolation from Antenna Transmit Signals:
>50 dB for undesired signals 291-318 MHz
Prime Power:
90-270 VAC, 47-63 Hz single phase or 24-30 VDC per MIL-STD-1275B
Size and Weight:
PA/Pre-amp: 4.5" W x 5.5" H x 12" D, 12.2 lbs.
AC/DC Power Supply: 8" W x 2.6" H x 11" D, 4.5 lbs.
Remote Control Unit: 3.6" W x 5" H x 2.8" D, 1.75 lbs.
Shock:
MIL-STD-901D
Operating +/- 15 g, 11 msec.
Non-operating +/- 30 g
Temperature:
Operating: -20 deg C to +60 deg C (50% Duty Cycle @ 100W)
Non-operating: -40 deg C to +75 deg C
Altitude:
Operating: 15,000 feet
Non-operating: 30,000 feet
Humidity:
95%, non-condensing
EMI/EMC:
MIL-STD-461E
Remotable:
Single RG-214 coax connection up to 300' away
Environmental:
Water resistant